The Organo Group leverages the technologies it has cultivated
through long experience with water treatment
to contribute to the industries that create the future,
and to the development of societal infrastructure.
Water is a precious asset, shared by all life forms on the planet.
It has been Organo's central theme throughout its history,
and the company continues to pursue a deeper understanding of water
and to nurture water-related technologies. Organo brings the powerful benefits
of this life-sustaining resource to the development of societal infrastructure,
to leading-edge industry, and to daily life.
Our Business
As a comprehensive water treatment engineering company, Organo supports the
development of daily life and industry with the widest range of equipment and
systems in the water purification industry.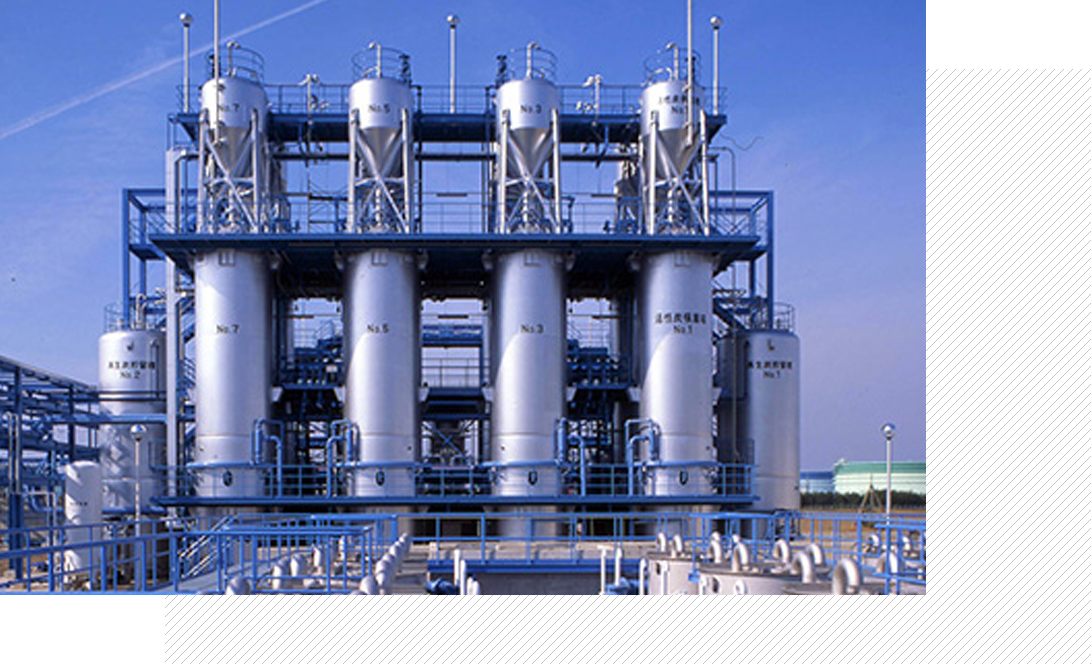 Plant Business
Providing streamlined systems built on technology that combines functionality with reliability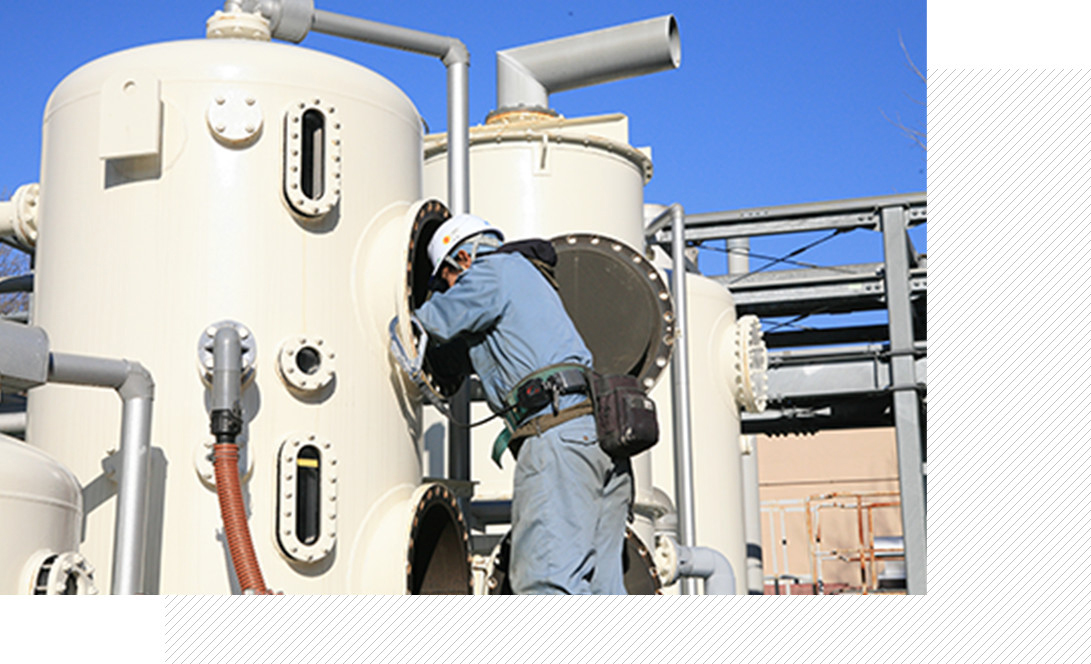 Service Solutions Business
Providing solutions for optimal operation of water treatment facilities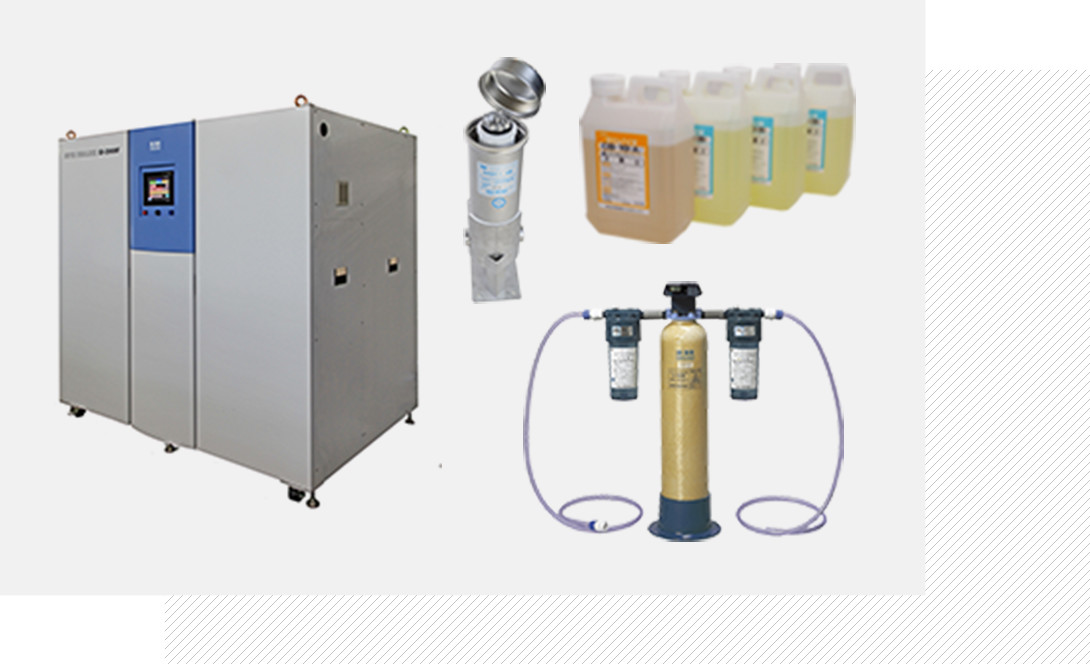 Performance Products Business
Meeting diverse requirements at short lead times with ready-made product lines
Our Strengths
From ultrapure water to wastewater treatment, and from water
for laboratories to high-volume water for plants, we pursue the
possibilities of water from the perspectives of science and technology.
Total Engineering
A comprehensive water treatment engineering company
Since its founding in 1946, Organo's central theme has been water—meeting the diverse water-related needs of its customers and responding to new requirements ushered in by each new era. Organo Group operations center on the provision of clean water for use in daily life and in industry, and the purification and return of wastewater to the environment.

Organo systems feature some of the world's most advanced technologies, born of years of experience and devotion to advancement. These technologies enable the provision of the purest possible water to satisfy the extremely stringent demands of the semiconductor industry. They also support the supply of industrial water to businesses in a wide range of fields, as well as the treatment of industrial and daily-use wastewater.

The Organo Group applies the technology and experience accumulated through its involvement in water treatment to the efficient removal of impurities from water. Organo supports those struggling with water scarcity by employing these technologies and experience in water purification and facilitating its reuse. Another contribution Organo makes to resolving resource-related issues is the collection of rare metals found in water.

While working to meet water-related needs in various fields, the Organo Group will continue to support symbiotic coexistence with Earth's beautiful environment.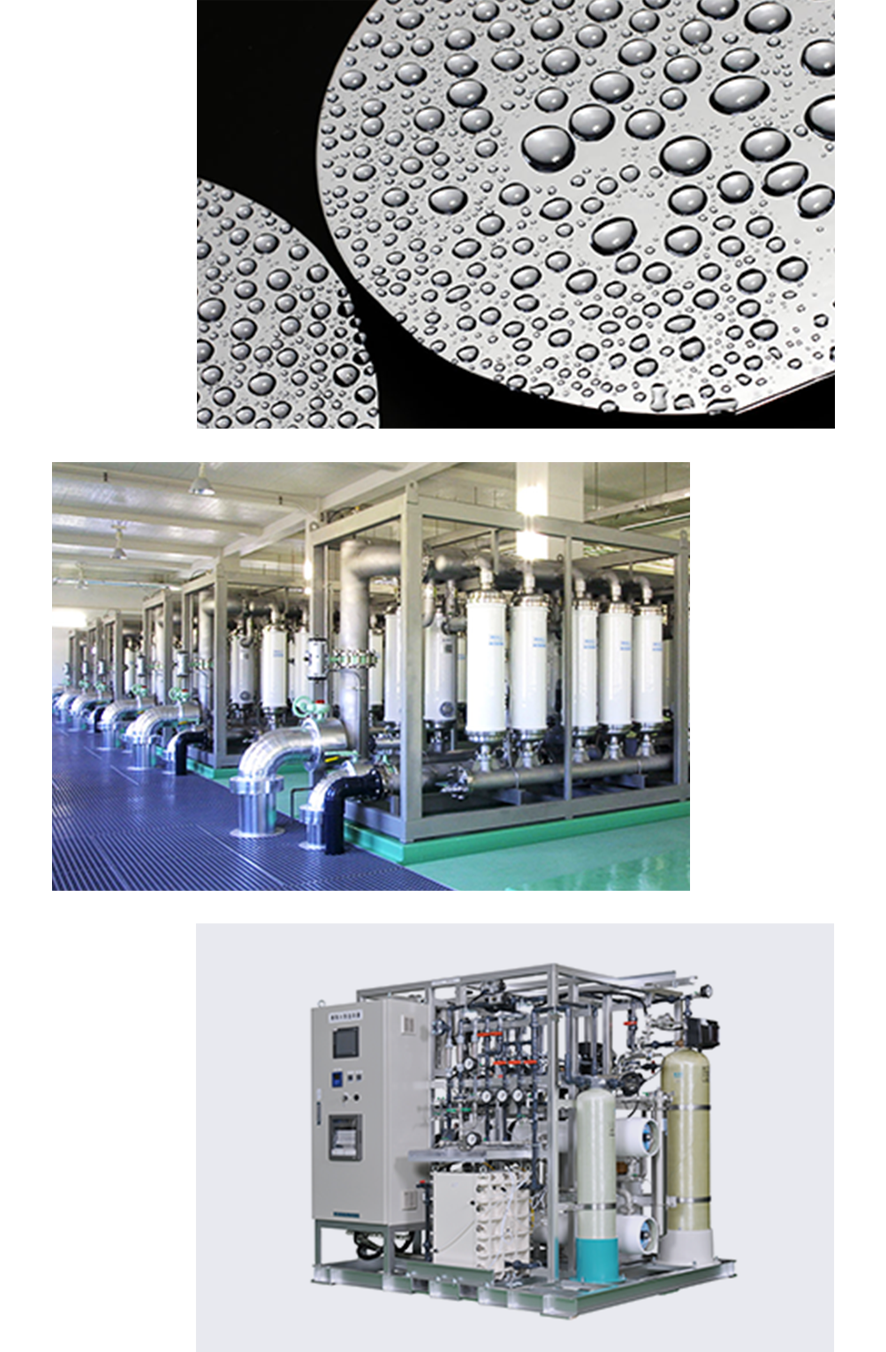 Technology
Technological capability built up over more than 70 years
Over its history that spans more than seven decades, the Organo Group has constructed a technology and service platform that enables it to satisfy the wide-ranging requirements of its customers, from industrial water to wastewater treatment.

From water for laboratories to high-volume water for industrial water treatment plants, Organo offers technologies and products that deliver a high-quality and stable supply of treated water, including ultrapure water. The scope of Organo Group operations extends well beyond the water systems expertise necessary to bring its technologies and products to fruition. It encompasses laboratories for assessing water quality, a purification facility for ion exchange resins, and more.

Among the Organo Group's water treatment technologies are those used to reduce the volume of water usage and to collect valuable resources. These technologies and more combine to contribute to the realization of a recycling-oriented society, and to the mitigation of environmental loading.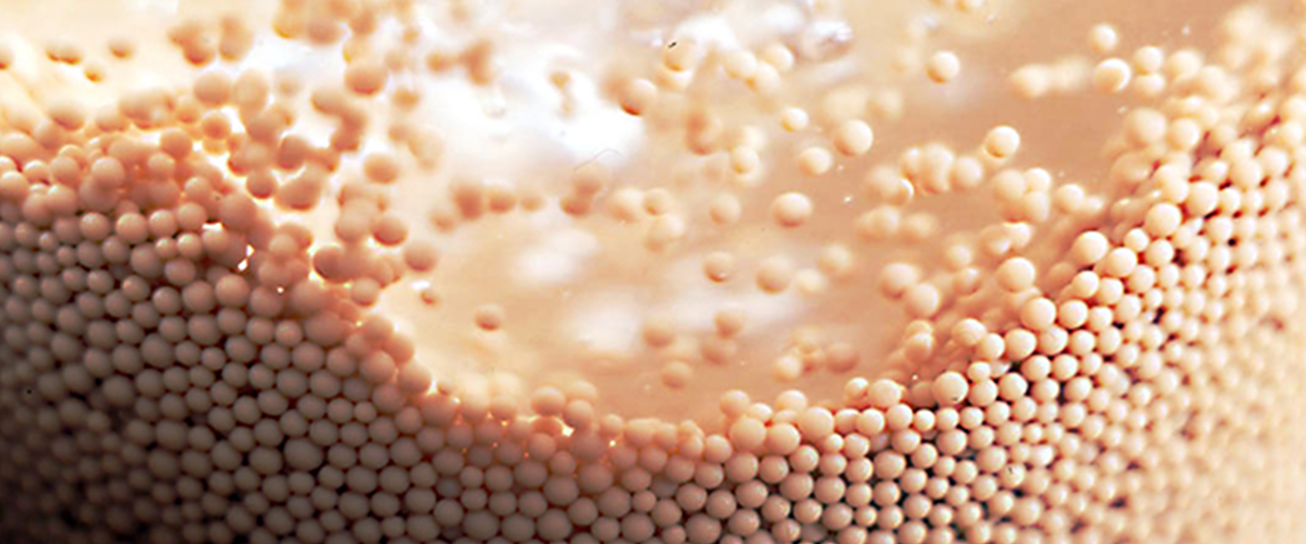 R&D
Tireless dedication to water
Within water remains limitless potential. And Organo remains devoted to its objective of creating new value for water.

The world has only begun to investigate the possibilities of water. To become a true pioneer in this scientific field where so much remains unknown, the Organo Group has established a development center equipped with comprehensive facilities and staffed with highly experienced personnel. The center delves deeply into the core technology behind diverse kinds of water treatment, develops high-precision separation and purification and advanced analysis technologies. Organo has also developed a series of technologies toward the promotion of a sustainable society, from comprehensive engineering research to development concerning air, soil, and waste.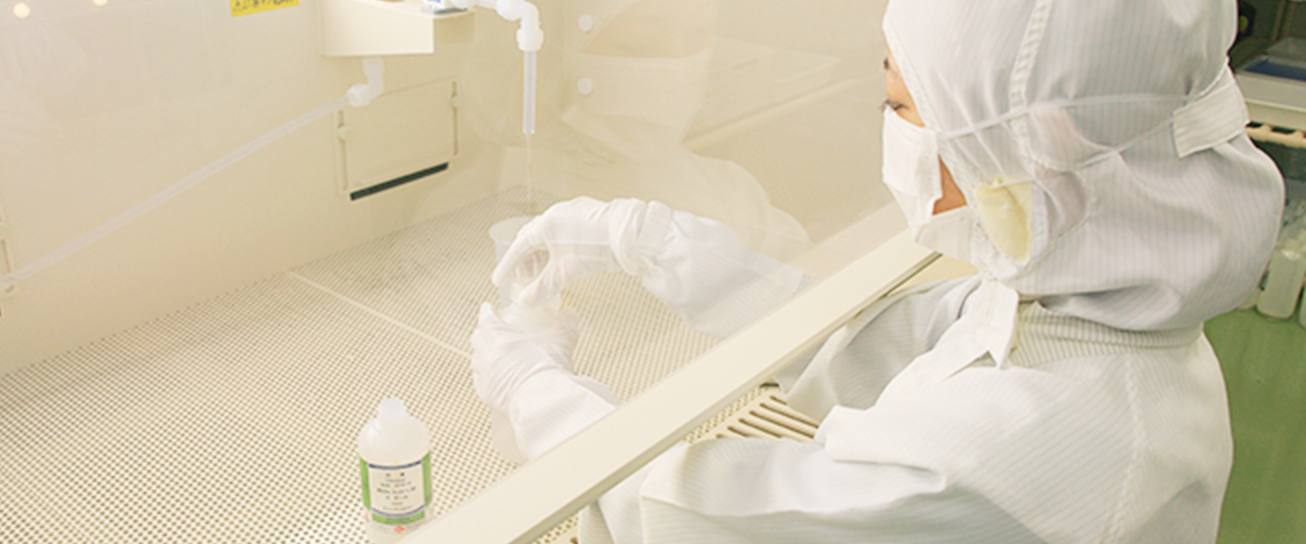 CSR
Corporate Social Responsibility
Organo will continue to fulfill its social responsibility to contribute to the
harmonious coexistence of people, nature, and industry, and to achieve
a sustainable society.
Global
The Organo Group will take its carefully cultivated, cutting-edge
water-related technologies from Asia to other parts of the world
and, while considering its impact on the environment, contribute
to the improvement of daily life and industry.
And Organo is developing a global-scale network that will enable more countries and regions to benefit from its world-leading technologies.
The establishment of new bases and broader collaboration with affiliated companies will allow Organo to apply its technologies on a global scale and contribute to the further development of industry and the creation of a rich and beautiful global environment.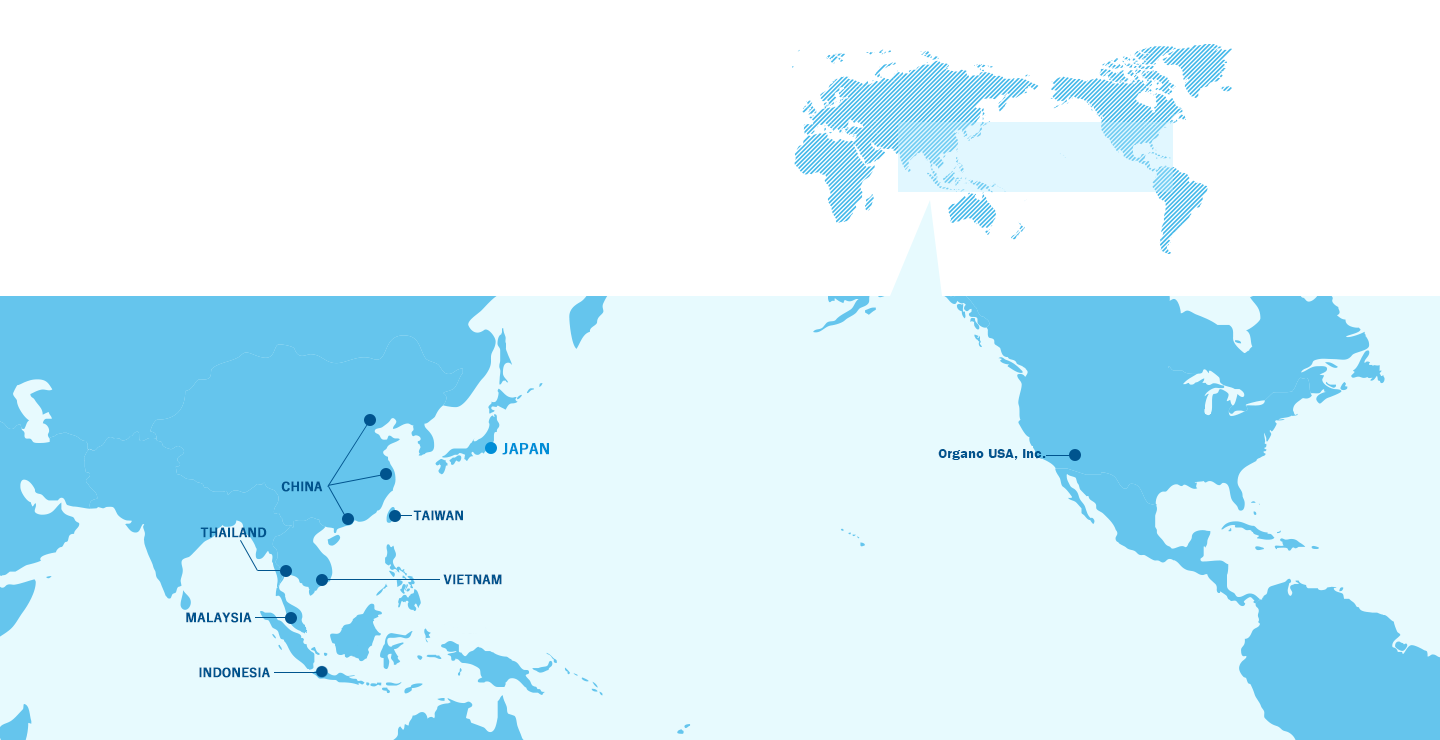 Malaysia
Organo (Asia) Sdn. Bhd. Kulim Branch
CHINA
Organo (Suzhou) Water Treatment Co., Ltd. Beijing Branch
Organo (Suzhou) Water Treatment Co., Ltd. Guangzhou Branch
TAIWAN
Organo Technology Co., Ltd. Taichung Office
Organo Technology Co., Ltd. Tainan Office
THAILAND
Organo (Thailand) Co., Ltd. Sriracha Branch
Organo (Thailand) Co., Ltd. Rangsit Factory
INDONESIA
SINGAPORE
Organo (Singapore) Pte Ltd
VIETNAM
Organo (Vietnam) Co., Ltd. Hanoi Branch
U.S.A
Organo USA, Inc.
Organo USA, Inc. Arizona Branch