This section introduces the core competencies of Organo Corporation.
Ion exchange resin refining technology and system
Semiconductor manufacturing and nuclear power station cleaning processes require ultrapure water, from which impurities have been removed to the maximum extent. Used for producing this ultrapure water, ion exchange resins require special refining processes including elution reduction.
Organo is the only water treatment engineering manufacturer in Japan that has a factory dedicated to refining ion exchange resins. The Tsukuba Factory, located in the industrial park of Techno Park Toyosato in the city of Tsukuba, Ibaraki Prefecture, has been in operation since 1990. It is one of the world's largest factories exclusively refining ion exchange resins. It manufactures refined ion exchange resins by processing the Amberlight resin produced by U.S. firm Rohm and Haas using Organo's proprietary refining method.
Organo refines ion exchange resins to meet customer specifications. And its ultrapure water manufacturing systems satisfy a wide variety of needs.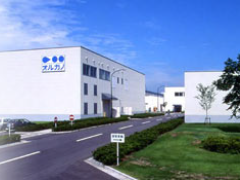 Tsukuba Factory
Amberlite is a registered trademark of Rohm and Haas Company.