R&D Center
Technology development accelerated following upgrade and expansion, consolidation of research functions in 2008
Located in the city of Sagamihara in Kanagawa Prefecture, an area of natural beauty, the R&D Center conducts a wide range of water-related research and development activities, including technologies involving ultrapure water production, clean water and wastewater treatment, environmental purification and impact mitigation, advanced separation and purification, and analysis and monitoring. As an comprehensive engineering company, we contribute to symbiotic coexistence with Earth's beautiful environment.
The R&D Center is equipped with IC card authentication-type security systems, a wireless LAN network, and the latest membrane-type water purification equipment.
Facilities

Security systems Wireless LAN network Latest membrane-type water purification equipment
Location

4-4-1 Nishi-Onuma, Minami-ku, Sagamihara, Kanagawa Prefecture 252-0332, Japan Tel.: +81 42-702-7820 (reception) Fax: +81 42-702-7840 Google Maps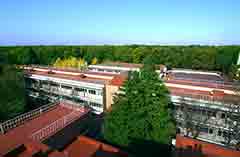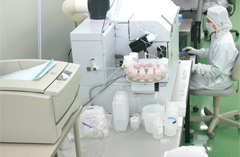 Advanced Analysis
Tsukuba Factory
One of the world's largest factories for refining ion exchange resins
The Tsukuba Factory, which began operation in January 1990, is a cutting-edge facility and a world leader in ion exchange resin regeneration and conditioning.
Ion exchange resins are used across a wide range of fields, from general-purpose applications to scenarios demanding extremely high quality. The Tsukuba Factory makes use of cutting-edge technology in satisfying these diverse quality requirements.
Certification/Commendation

April 1996: Obtained ISO9001 "Quality Management System" certification May 1998: Obtained ISO14001 "Environmental Management System" certification November 2017: At the 2017 awards for Excellent Green Factories sponsored by the Japan Greenery Research and Development Center, the Tsukuba Factory won the Japan Greenery Research and Development Center Chairman's Award.
Overview Approx.

Site Area: 33,000 square meters Building Area: Approx. 14,000 square meters
Location

2-3 Midorigahara (Tsukuba TechnoPark Toyosato), Tsukuba City, Ibaraki Prefecture 300-2646, Japan Tel.: +81 29-847-8381 (reception) Fax: +81 29-847-8889 Google Maps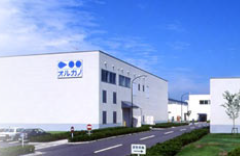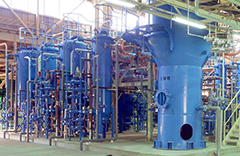 Refining Facilities
Iwaki Factory
New building constructed in 2008 to improve production capacity and accelerate equipment lead times
The Iwaki Factory is a cutting-edge water treatment equipment manufacturing facility, where units that comprise large-scale water treatment plants are standardized at a transportable scale and then shipped as assembled products.
Increasing the proportion of production accomplished in-house has enabled enhanced product quality and reduced on-site assembly work, thereby shortening on-site construction times and cutting costs. A major feature of the factory is the clean room for assembly separate from the general production line, in order to serve semiconductor and medical customers.
April 1996: Obtained ISO9001 "Quality Management System" certification May 1998: Obtained ISO14001 "Environmental Management System" certification
Overview

Site Area: Approx. 82,700 square meters Building Area: Approx. 18,000 square meters
Location

1-66 Yoshima Kogyodanchi, Iwaki City, Fukushima Prefecture 970-1144, Japan Tel.: +81 246-47-0555 (reception) Fax: +81 246-47-0565 Google Maps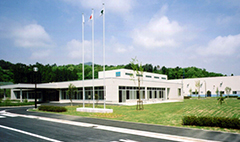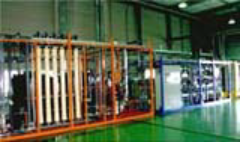 Unit Ultrapure Water Equipment